The United Methodist Women (UMW) is an organization that resulted as the vision of women's missionary societies of eight denominations since 1869. The Ladies Aid Societies, which had existed for many years, were incorporated in the missionary societies in the 1940's. Through reorganization and denominational mergers, these various groups were brought together. In 1973, United Methodist Women became the women's mission organization of the United Methodist Church. From its beginning, UMW has focused on ministries with women, children, and youth.
We invite women of all ages to grow spiritually, develop as leaders and serve and work to create a world in which all women, children, and youth thrive. To join and be a part of UMW you just need to commit to engaging in mission, study, personal growth, and social action. We are faith, hope and love in action. We can grow and learn from each other and share in the tradition of giving and serving.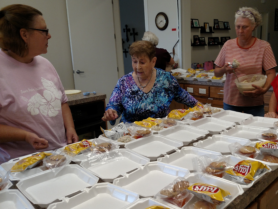 The UMW of Troy United Methodist Church participates in the following:
– Backpack Buddies for school children
– Lunch money for children in need at our local schools
– Donations to Vacation Bible School for children
– Donations to the Youth Mission Trips
– Donations of TVs to the youth
– Donations of school supplies as well as socks and underwear to our local schools
– Donations to the children's Church and Community Easter Egg Hunt
– Helping raise monies for missions at our Fall Festival through baking goods,
organizing the garage sale, and participating in preparing and serving the lunch
meal as well as providing the meat for the meal.
– Preparing and serving lunch each May to the Seniors of Troy High School
– Donations at Christmas to the local Child Protective Services
– Donations to our local Christmas toy drive – "Blue Santa"
– Hosting wedding and baby showers
– Christmas gifts for those in nursing facilities, or anyone that in homebound due to
– Meals prepared for those who are sick/recovering from surgery/or have had a
– Donations to the District Conference Missions
– Donations of supplies and funds to UMCOR Disaster Relief
– Serving lunch for the DCOM
– Women's lunch with Grant Chapel
– Donation and organizing fundraiser for sound panels in MAC
The United Methodist Women meet the second Wednesday of each month at 5 pm.
Special events are listed in the church newsletter, on the weekly Notepad email, and on the church website and church Facebook page. We invite all women in the church to join us in our mission to serve and assist women, children and youth around the globe as well as locally.